Thank you for joining us in celebrating the inauguration of Susan R. Wente, Ph.D., the 14th president of Wake Forest University. For nearly 200 years, this University community has attracted a rare kind of leader — one with integrity and character with a strong guiding set of values and principles.
To honor this legacy of leadership and in anticipation of the University's exciting future, individuals from across the country gathered at Wake Forest to participate in a celebration of academic achievement, service, leadership and community.
We are excited to have hosted a wonderful celebration with the Wake Forest University community as we anticipate the next chapter in our institution's story.
---
Share Your Message
Share your congratulatory message with Dr. Wente below.
Inauguration Highlights
The Inauguration of Susan R. Wente, Ph.D., took place March 23-27, 2022.
---
Major Community Events
The Wake Forest University community welcomed Dr. Susan R. Wente as its 14th president on March 25, 2022. We are thankful for everyone who could join us for this historic celebration.
---
Inauguration Ceremony
The official installation of Dr. Susan R. Wente as Wake Forest University's 14th president took place on March 25 at 3 p.m.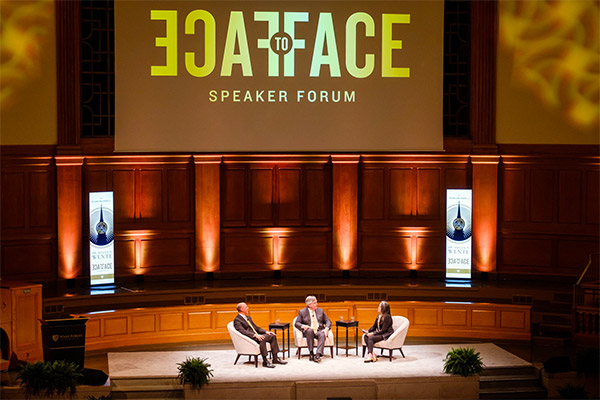 Face to Face Inauguration Forum
In a free event in Wait Chapel on Thursday, March 24, Larry Culp (P '17, P '19, P '23), University Trustee and CEO of GE, and Gene Woods, CEO of Atrium Health, discussed radical collaboration in a moderated conversation with University Trustee Marybeth Torbet Hays ('90, MBA '94).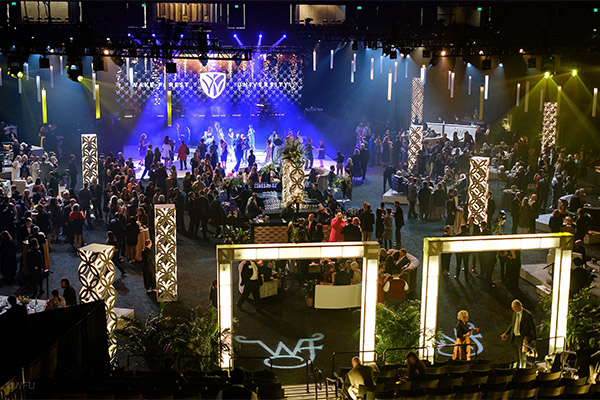 Inauguration Ball
A celebratory ball honoring Dr. Susan R. Wente was held in Lawrence Joel Veterans Memorial Coliseum on the night of her installation ceremony. Special guests of Dr. Wente and the University joined faculty, staff and students in a festive Wake Forest community gathering.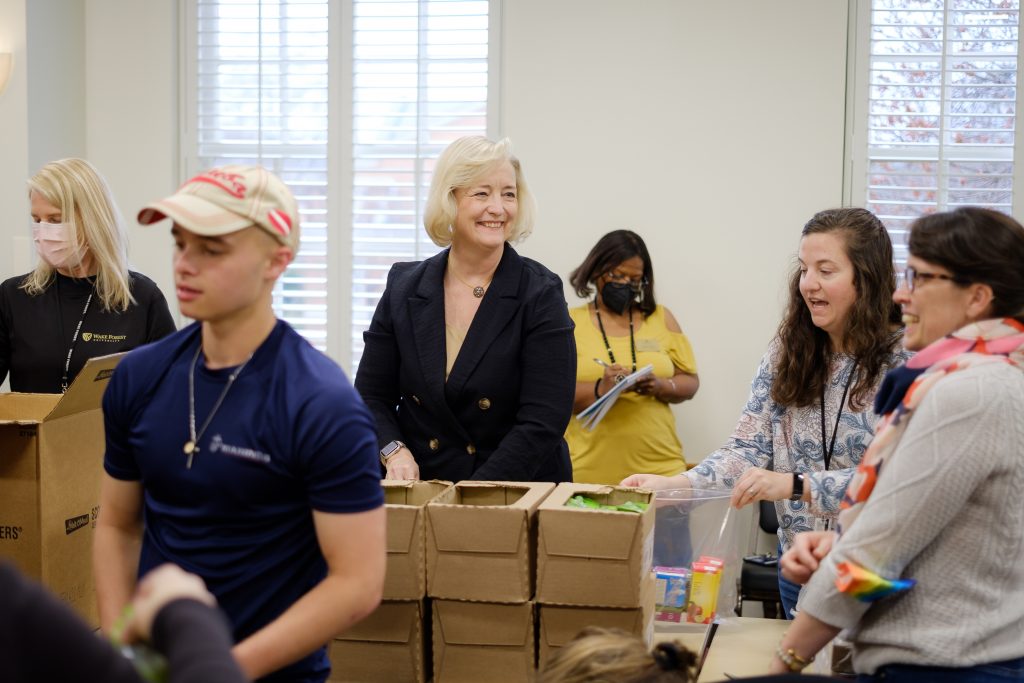 Honoring Pro Humanitate
On Wednesday, March 23, members of the campus community showed that good wears black when they volunteered their time for kit-packing parties to benefit children, women and families of the Winston-Salem community.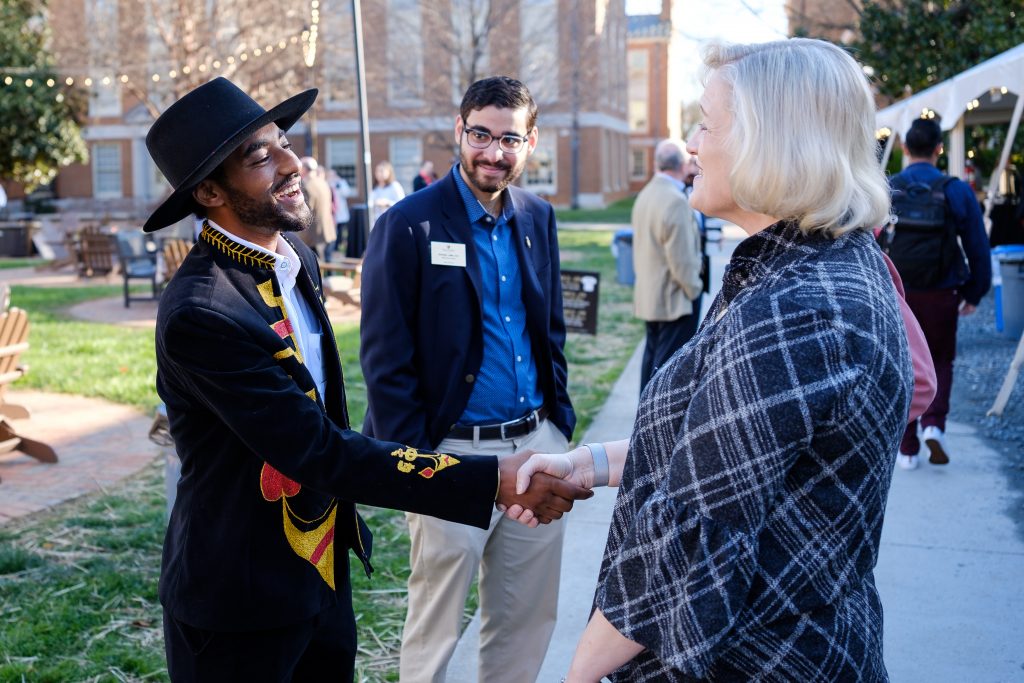 Campus Community Breakfast
On the morning of President Wente's inauguration, faculty, staff, students and University guests enjoyed a community breakfast and fellowship on Manchester Plaza.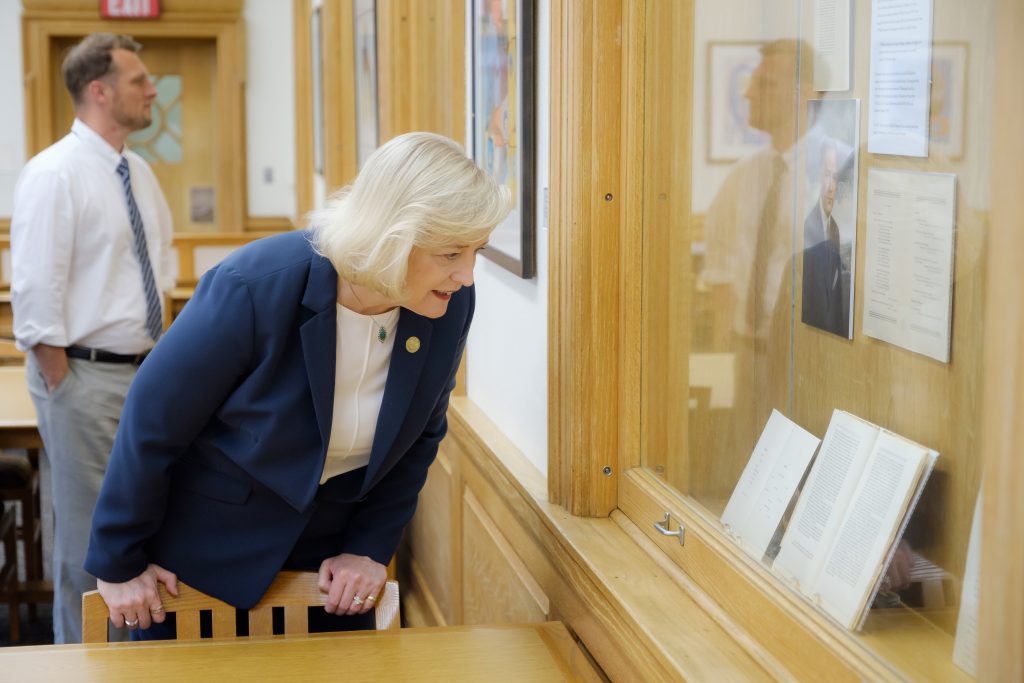 Remembering Our Story
Explore Wake Forest presidential inaugurations, past and present, with this unique exhibit of rare photographs and documents curated by Archives & Special Collections in the Ammons Gallery of the Z. Smith Reynolds Library.
---
#WenteToWake
Follow President Susan Wente on Instagram (@PresidentWente) and on Twitter (@PresidentWente). You also can share a message with her on her website.